THE "N" LITTER RIPTIDE Bridge x Tang Due April 28, 2023
Lorie Jolly of Rosehill Retrievers and I are happy to announce the repeat breeding between Bridge and Tang! Breeding has taken place and litter is expected to arrive end of April 2023.  We are expecting exceptional working dogs with biddability, functional structure, intelligence, great off-switches, and natural drives. Pups will be well suited for hunting/hunt tests; agility; obedience and make active family dogs.
A wait list has already formed, but we are accepting inquires.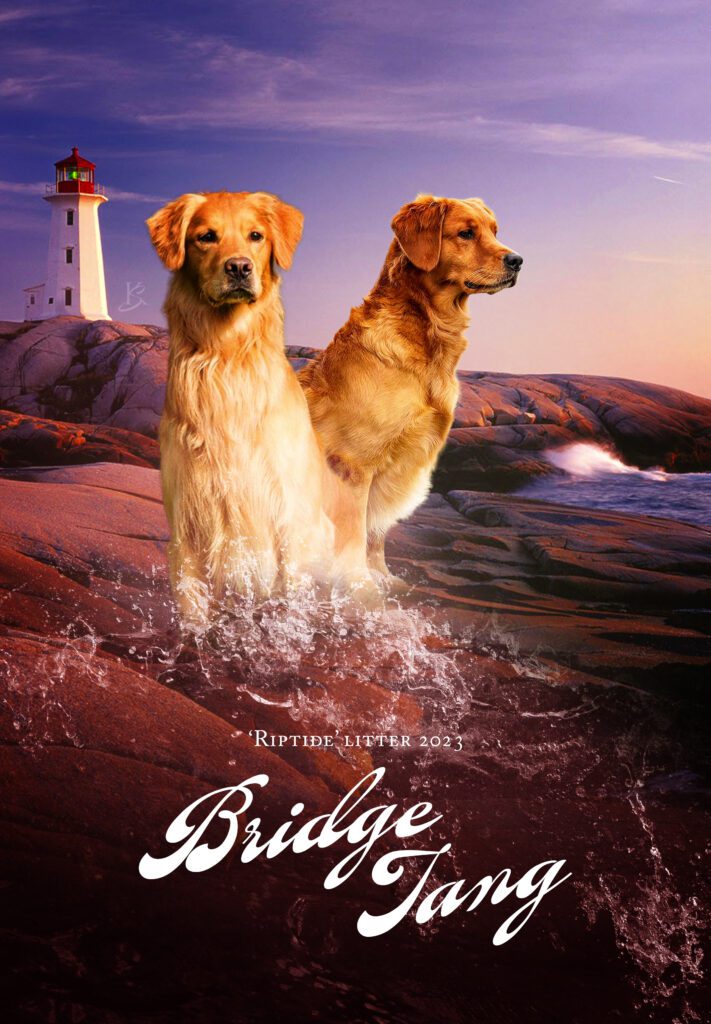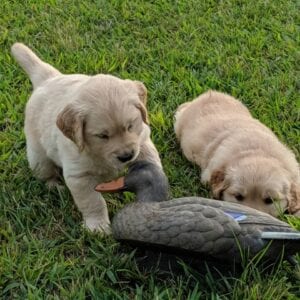 Our puppies are only placed in carefully selected homes between the ages of 8-10 weeks, depending on the needs of the litter. We ask that you fully consider the commitment of owning a Golden Retriever. We firmly believe that working Goldens, such as we breed, are not the ideal dog for the average overscheduled, busy family. We expect that you have determined you have the time and energy to add a puppy to your family. Sporting dogs need regular exercise and training. We ask that all of our puppy buyers complete a basic obedience class with their new dog and put the effort into socializing their puppy in a positive way. We expect our potential buyers to be committed to love and care for their puppy for the entirety of its life. If it comes to pass that you can no longer care for your dog, we do require under contract that the dog be returned to us. We are committed to our dogs for their lifetimes!
Lifetime commitment and support.  This isn't just a nice phrase on some website that doesn't really mean anything.  Whether it's good news or bad, sharing pictures and stories, asking advice, we love our dogs and their owners just as much.  We're here for our owners through our private Facebook group, by text, phone calls, or emails.  Our owners have our commitment to this wonderful breed and the lifetime support for their dog.
lI prefer to wait until breeding plans are announced to accept applications and my wait list fills quickly.  However, I do not accept deposits until I confirm a pregnancy. Deposits are $500 of the total cost of $2,800.  At that time the pregnancy is confirmed, I call those on my list for deposits and entry into the waiting "pool".  There is no 1st pick, 2nd pick, ect, but rather MATCHES.  We match puppies and people.  We understand that it can be disappointing to hear that we make the matches, but this is how we place our puppies, period. We are keen observers, and keep copious notes and records of each puppy, always watching them with the needs of our waiting list in mind.  We utilize Avidog's APET evaluation, which is a tool that assesses 33 different traits of a puppy's temperament and is responsible for thousands and thousands of successful matches over the years.  We also love that it equips us to provide our new owners with a customized training plan just for their puppy.  Simply put, we are asking you to trust us; no one knows them as well as we do.
Not everyone who gets into the pool is guaranteed a puppy.  Sometimes that is Mother Nature's call, sometimes it is the breeder's call.  If it comes to be that I do not have a puppy available to you, you have the choice of leaving your deposit with me for my next litter, or a refund of your deposit. Once I feel I have a puppy for you, your deposit becomes non-refundable.  If you would like to review our contract before making a decision, please let us know and we will email or mail you out a copy.
Pet puppies are sold on a limited AKC registration. Limited means that the dog is not to be bred.  Your dog will still be able to participate in all AKC performance events, such as hunt tests, rally, obedience, agility, etc.  I file the paperwork with AKC on your behalf, and the certificate will be mailed to in a few weeks directly from AKC.  At the time the puppy is picked up, I will require $20 to cover the AKC registration fee, which saves you $10.  All puppies sold are required to be registered.
I will consider full registrations to reputable, established show homes only.  Some show puppies will be placed in approved homes on co-ownership basis, and all with detailed contracts and health guarantee.
Under contract, you will agree to have your pet spayed or neutered after the age of 24 months, or leave intact and act responsibly. There are several studies that show delaying alteration is in the best interest of your puppy's health and development.  If you are going to alter your dog, we prefer you use a gonad sparing procedure. If you choose to alter you puppy before that age, and before all grown of joints and long bones is completed, your health guarantee will be voided.
Special consideration will be given to working and performance homes. We prefer to place pups in homes that will be working or competing with their dogs regularly, as our breeding program focuses on producing dogs with good working temperament.  However, we do not place our puppies as service dog prospects.
At the time you pick up your new pup, we also provide you with the following:
An all inclusive "Puppy Book" regarding basic care, health, feeding, grooming, training, photos of parents, copies of parent's OFA health certificates. Your puppy will also have results of temperament testing that includes insights for training specific to your puppy.  I also provide information on the latest health concerns for Goldens.  "Goodies" includes: starter food pack, toys, blanket, collar/leash, clickers, bird wings, and personalized items.
Training assistance through support and materials. We want you to be successful with your puppy.  A rebate of $50 will be given to our families who complete an AKC S.T.A.R. puppy (or similar) class.
The pup will have had a complete vet exam, worming (a minimum of three times), and first shots and health records. We embrace the use of titer nomographs on the mother to determine what shots to give the puppies and a schedule for all future shots. We do not recommend routine vaccinations.
We are using the AKC Reunite microchips, and pre-register/pre-pay the lifetime enrollment fee for you.
Most importantly, we provide you with a 2 year health guarantee from life threatening congenital diseases of the joints, eyes, and heart, up to the cost of the puppy. If for any reason within the first 3 days of having your puppy, your vet finds any health concern or deems your puppy unfit as a pet, we will accept the puppy back for a refund or you may wait on a new puppy from a future litter.
Finally, we give you a lifetime of my support and help. Your breeder is the best source for help and information, so please take advantage of that fact. We stand by our puppies and want your relationship to be a successful one.   All the above items will be fully explained to you before you pick up your puppy, and we would be happy to provide you with a copy of our formal contract at any time prior.
Active participation and communication.  We love our puppy families and we all love seeing each other's puppies and how they grow.  We use our private Facebook group to stay connected, to get feedback on how well a particular breeding achieved our goals, and to support our owners in caring for their dogs.  It's a lot of fun to get to know other Grapevine families as we watch the puppies grow.  For those not on Facebook, we connect at least once a year through phone or email.  Staying in touch is the best way we have found to breed better dogs, and to make sure that our owners are happy.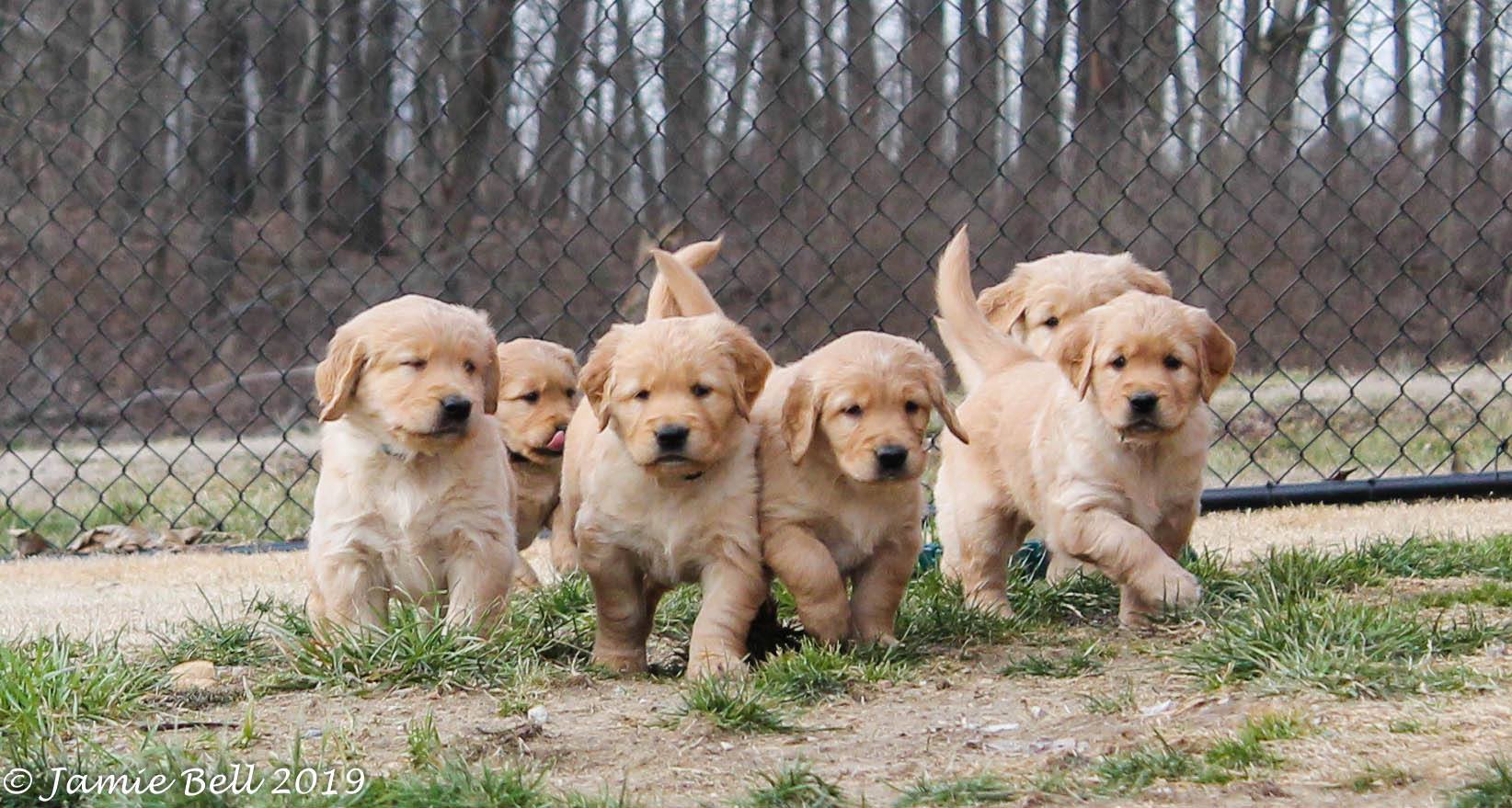 We are dedicated to breeding conformationally sound, working Golden Retrievers per the AKC breed standard through thoughtful and well-researched breedings.  We select each of our breeding dogs for specific qualities to help us reach our goals of a versatile, well-balanced Golden Retriever.  We apply a wide array of selection criteria to each unique breeding, including genetic and practical health, temperament, working ability, and type, as well as versatility and longevity.  For each breeding, we're looking for the proverbial needle in a haystack that will carry our program forward to the next generation.
At Grapevine, we have the following goals in our breeding program:
Breed to the standard, and our ideal of the standard, as closely as possible.
To breed for superior health and longevity, following ethical standards set forth by the Golden Retriever Club of America, by conducting recommend health exams for hips, elbows, eyes, and hearts.  We also conduct full panel DNA tests on all our dogs for every test available to Goldens.
To compliment and improve upon our dogs.
To produce and develop top notch temperaments, intelligence, and natural ability of a true willing working companion for competitive events and hunting companions, as well as dogs you can live with at home!
 PLEASE FOLLOW US ON INSTAGRAM, FB FOR UPDATES!
If you are interested in one of our litters, please click on the "Apply for a Puppy" button to submit our online application form. Normally, I get in touch within 48 hours after receiving your application. If you do not hear back from me, please call or email me. Thank you!
At first glance, this form may seem a little long, but these important questions will help us find the right puppy for your family. Please remember, there are no right or wrong answers. We know that every family is different and has different needs, desires, and experience levels. This application helps us identify who needs what and what homes will be the best fit for each individual puppy. Please complete to the best of your ability. If you have a question that does not apply, or you cannot answer, simply put an X into the box and we will cover it in a phone interview. Phone calls and emails with your questions and concerns are always welcome. Completing an application does not guarantee a puppy. We place puppies on the basis of best fit by temperament and that coat colour or other factors of appearance will not be a basis for placement.