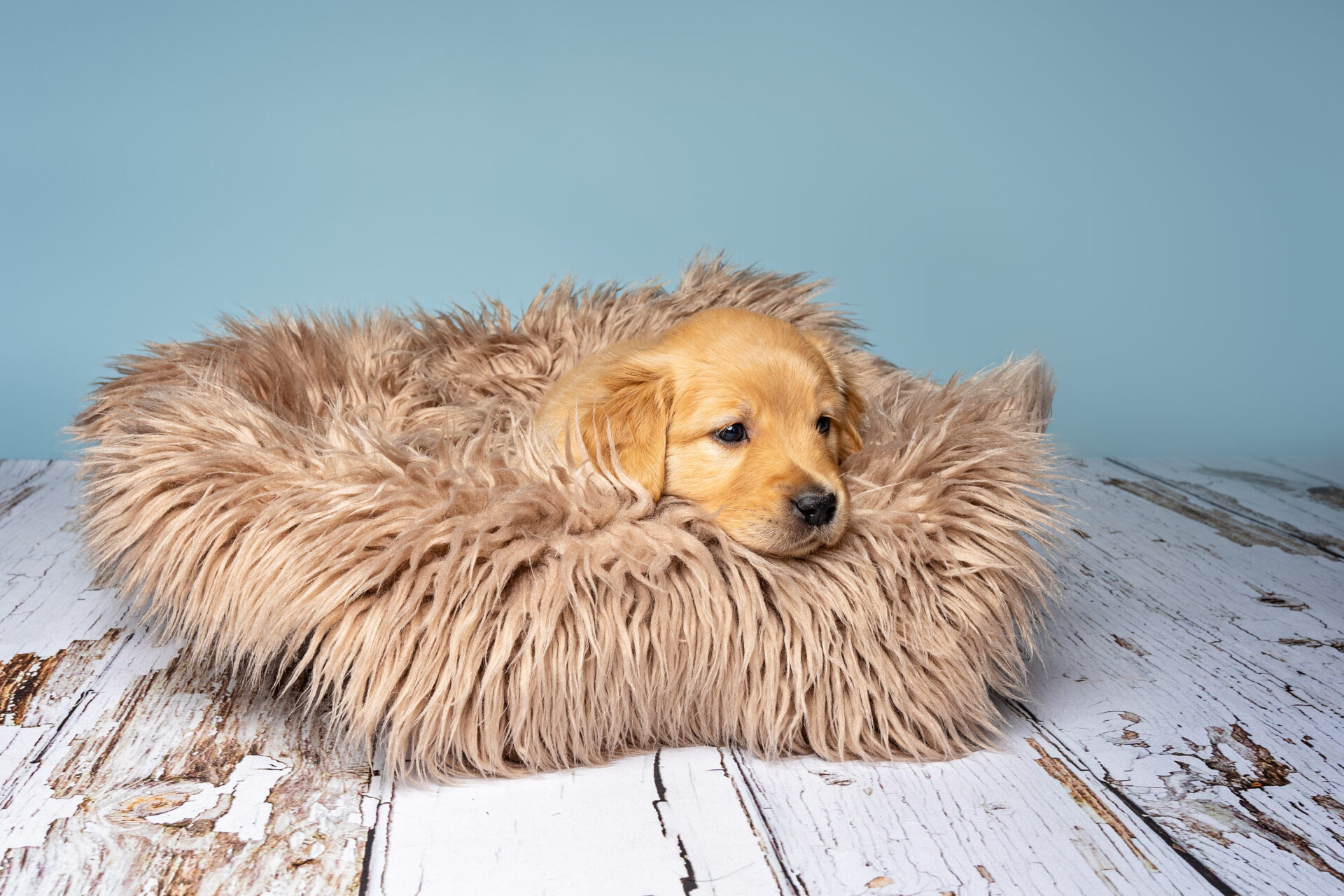 Between birth and 8 weeks of age, puppies have key critical stages of development that can affect them for a lifetime, both positively and negatively. As breeders, we have our puppies during the majority of their critical socialization period, which is the most important time in the shaping of a dog's future behavior. We have implemented a science and research-based early learning program to give our puppies their best start. Our program is very labor intensive. We devote hours and hours of time and love to the socialization and training of our puppies. We have become Avidog Associate Breeders to bring both tried-and-true and cutting-edge scientifically-sound methods to our development program to produce healthy and stable puppies. Because of our work, the puppies leave us self-assured, confident, & resilient.
We have used both Puppy Culture and Avidog programs; we stay with Avidog for its quality, breadth, and depth.  We incorporate protocols covering a wide variety of a puppy's needs, including Early Scent Introduction, savvy socialization, impulse control, early training, and so much more to give our puppies the very best start possible.
Avidog itself goes far beyond 8 weeks of rearing puppies.  The Avidog University Breeder College includes 7 flagship courses and a growing catalog of online classes focusing on every aspect of dog breeding and care.  From the health and wellness of the mother, to the selection of the sire and management of breeding adults, to the breeding itself, prenatal care, whelping and care of neonates, training, nutrition, fitness and all the way to the care of senior dogs.  Avidog's scope is comprehensive, and the value incomparable.  We're thrilled to be able to share our world-class education with our puppy families by providing every new home with a free enrollment in Avidog's Puppy College.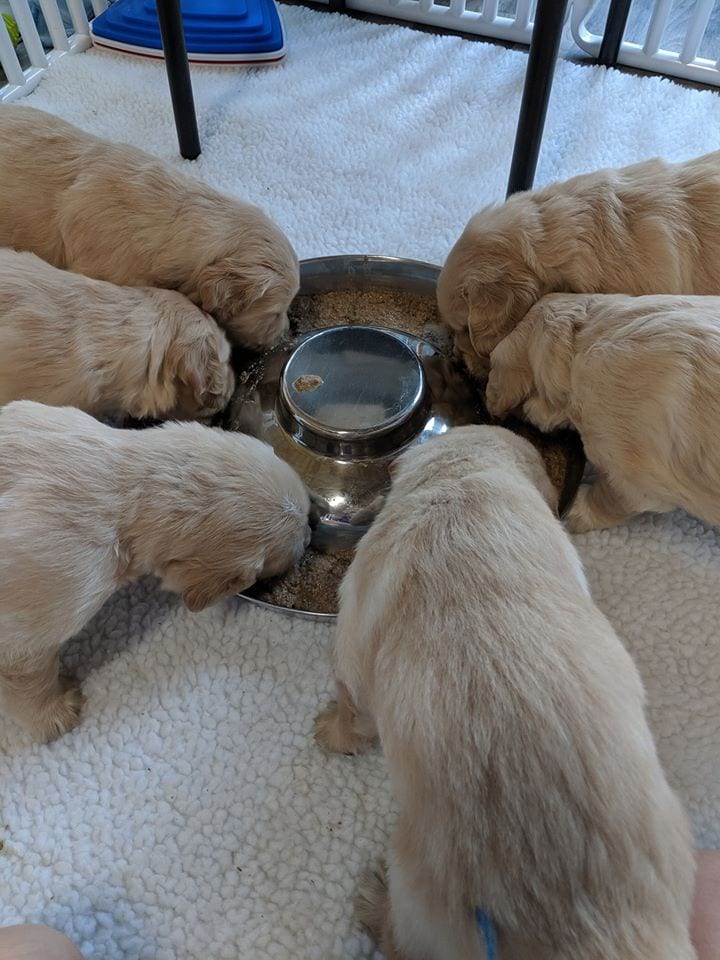 We provide our dogs and pups with Omega 3 supplementation for optimal brain development and probiotic supplementation for a strengthened immune system. Additionally, providing excellent nutrition for our mothers while they are pregnant can positively impact puppy trainability, vision, immune systems, and lifetime cancer rates.  Our dogs and litters eat a diet combining a kibble rotation (Purina ProPlan Sport formulas & Inukshuk Brand foods) and a natural raw diet.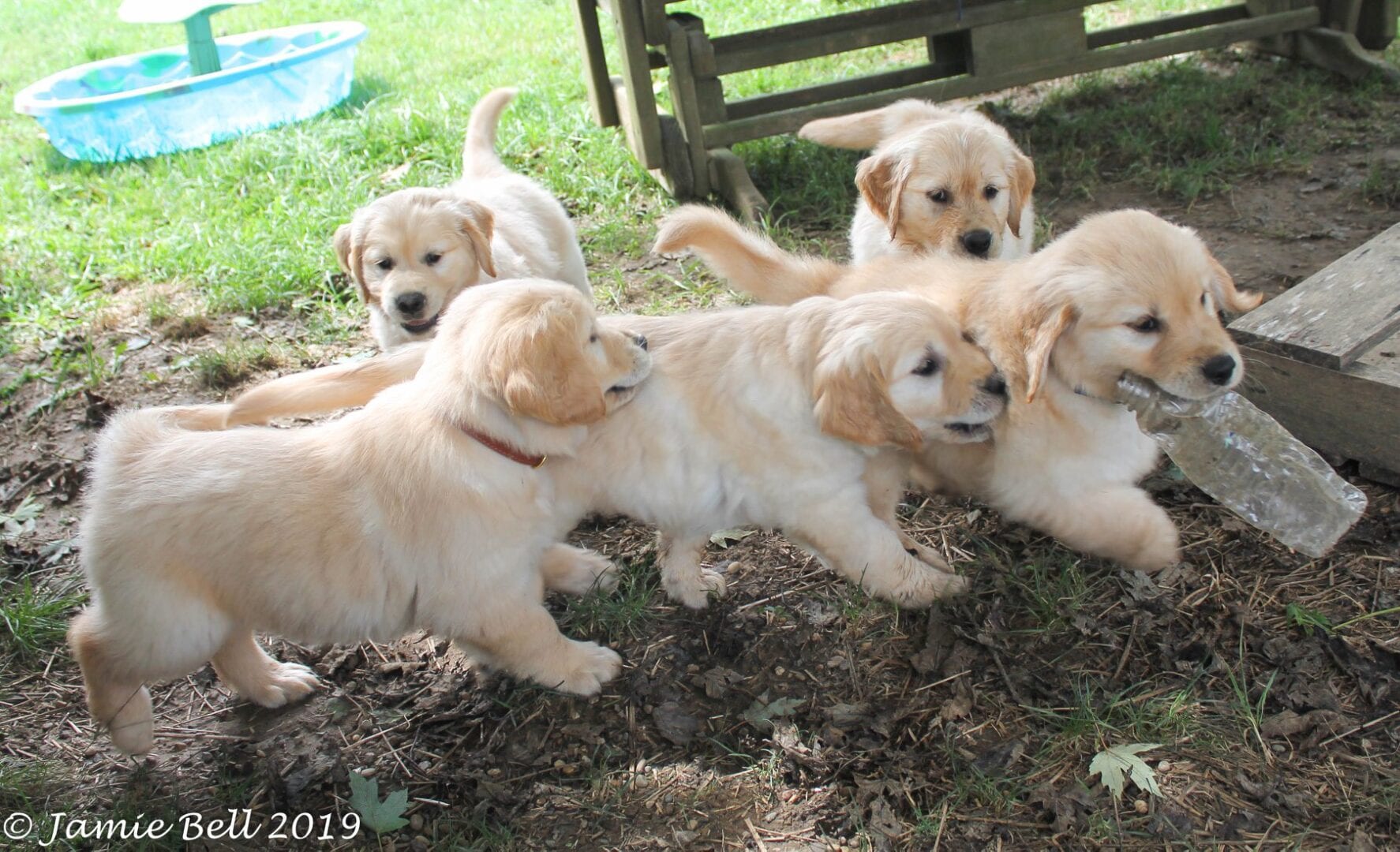 Epigenetics is an exciting new field of science that is exploring and explaining the relationship between environmental influences and gene expression.  We've learned that harmful genes can be switched on or off by environmental influences (namely nutrition, level of stress, toxin exposure).  We know that we're no longer "doomed by our genes" to a particular fate.  Even your puppy's dam's  (mother) and grand-dam's (grandmother) diet and activities can affect his or her genes! 
A dam's nutrition, stress, and levels of enrichment she receives both before breeding and while pregnant has been proven to have lifelong effects on her puppies. Providing positive enrichment, activity, grooming, and touching will produce puppies that will handle stress better. Maternal stress is linked to offspring that are more likely to be hyperactive, respond to stress poorly, have abnormally high blood glucose levels, mild impairment of intellectual activity, and anxiety.
If you are interested in learning more, here is a link to follow:
https://www.dogsnaturallymagazine.com/dog-epigenetics/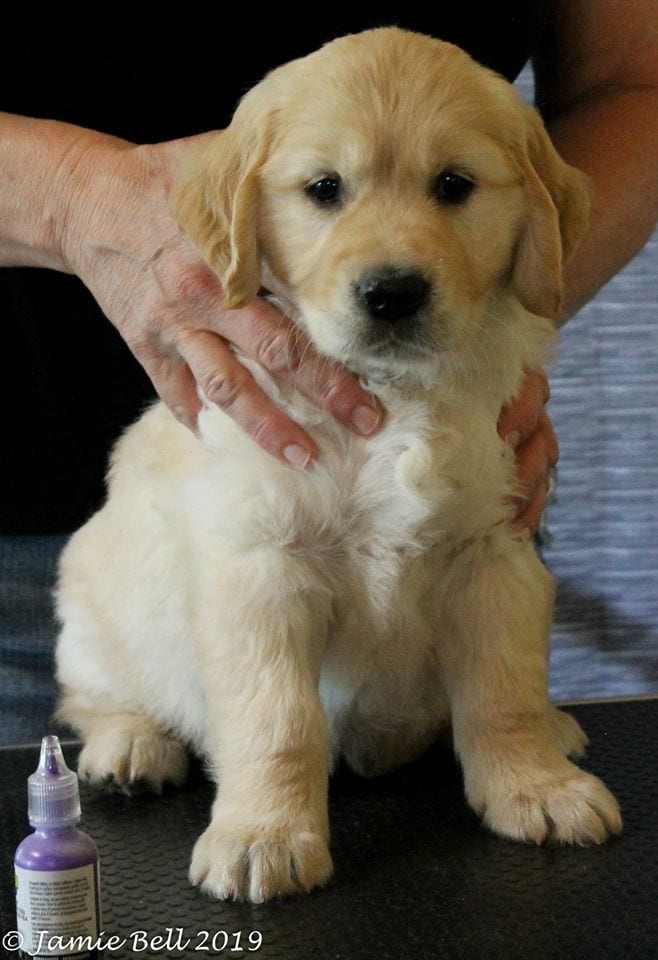 We evaluate health, structure, temperament, and working aptitude. While this is done by our careful observations from birth on, we also utilize Avidog's APET evaluation, which is a tool that assesses 33 different traits of a puppy's temperament and is responsible for thousands and thousands of successful matches over the years.  We also love that it equips us to provide our new owners with a customized training plan specific to their puppy.  Structural evaluations are done at 8 weeks of age as well.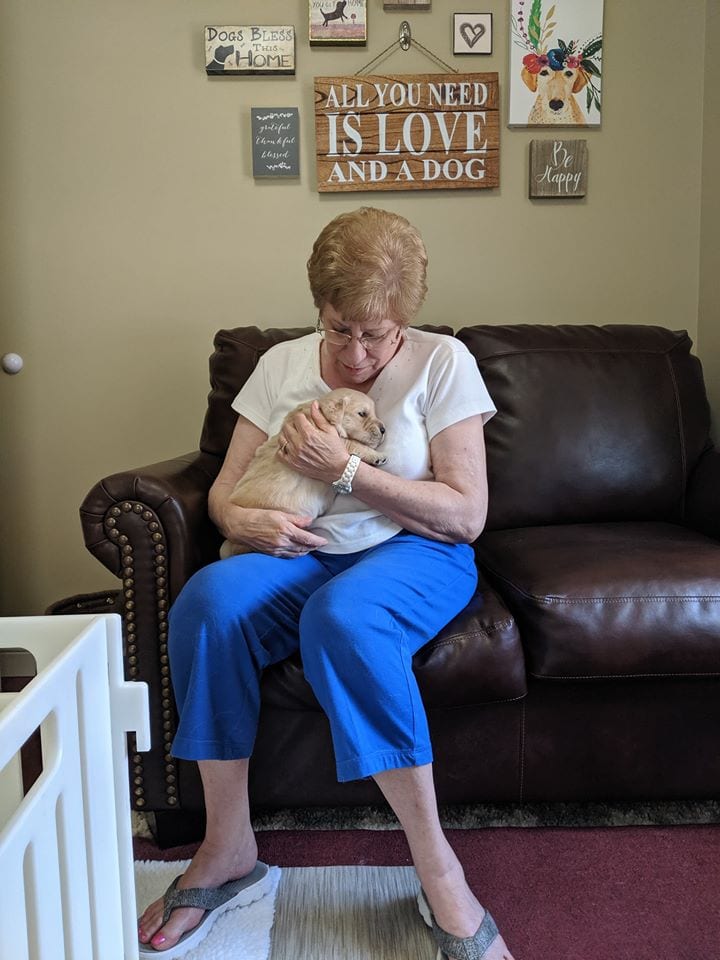 Our puppies are raised in our home to make them accustomed to daily family life. Studies show that puppies raised in domestic environments (like a breeder's home) are significantly less likely to show aggression to strangers and to display avoidance behavior, compared to puppies raised in a garage, kennel, barn, or other non-domestic environments. Our puppies become the focus of our lives, and receive daily handling, socialization, and attention from birth. They are socialized with many different people while they are with us and are allowed to interact and play with other dogs.
Experiences during the sensitive period (from 3 to 12 weeks of age) affect puppies in powerful ways that are difficult to alter later on. Studies have shown that a lack of appropriate socialization during the sensitive period plays a large role in determining whether the dog develops behavioral problems later on. In one study, the amount of socialization before 12 weeks of age was found to be the measure most associated with desirable behavior in adult dogs. In addition, anything learned (again, positive and negative) before the age of 16 weeks can become part of a puppy's mental and emotional self for life. It is important for our families to expose their puppies to the types of activities (and lifestyle) they hope to enjoy together before 16 weeks of age. To help with this, we provide our families with key activities (on a structured schedule) and techniques to help prevent any negative associations or fear reactions.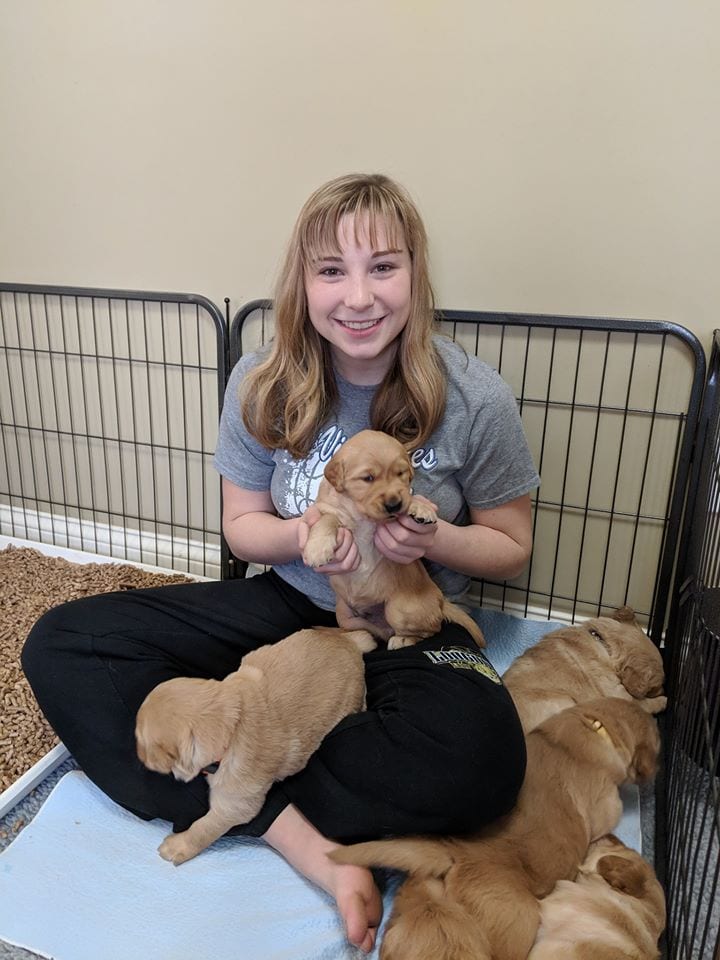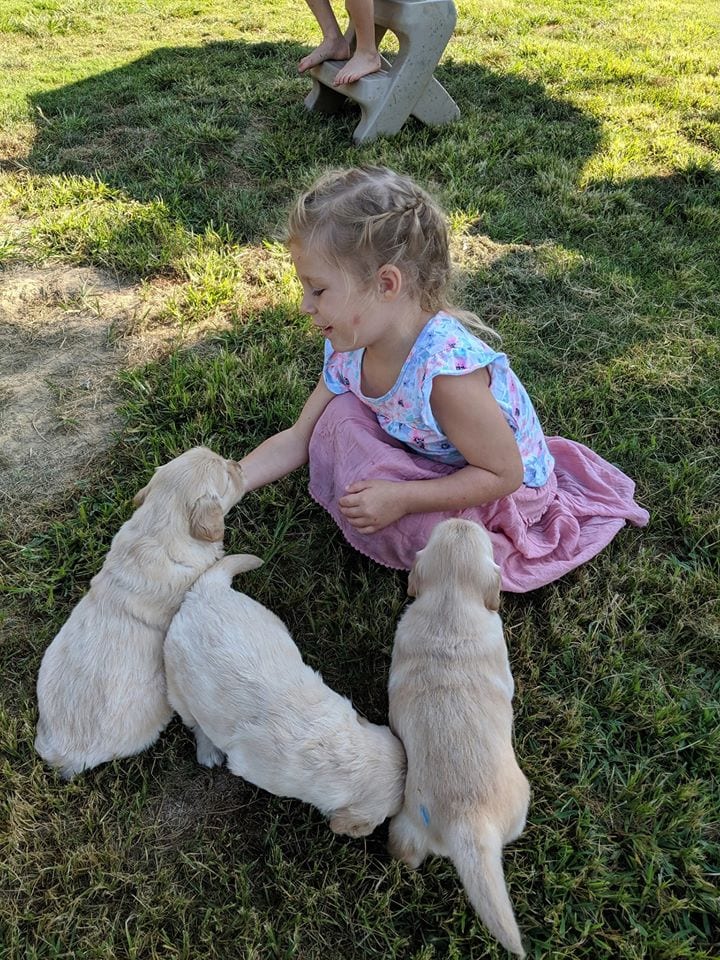 Mental Development & Enrichment