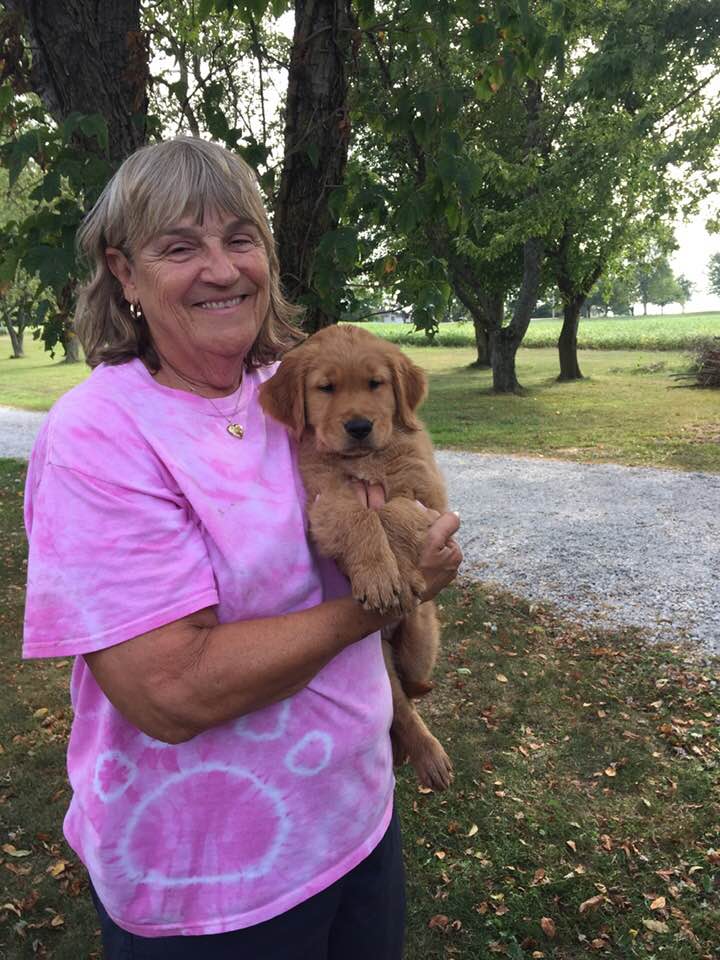 Jamie Bell is a fantastic breeder. From the moment she chose me as a puppy owner, the communication began. Constant updates throughout the pregnancy and lots of pictures and videos after the birth of the puppies. We got some nice gifts that were very unexpected - I love my Grapevine Bag and the beautiful blanket my puppy will have forever. She put time and energy evaluating the pups to put in to the best home. The puppy I received was absolutely perfect for me. I am proud to call her my breeder and will stay in contact to brag and share my puppy's journey.
Mary S.
2020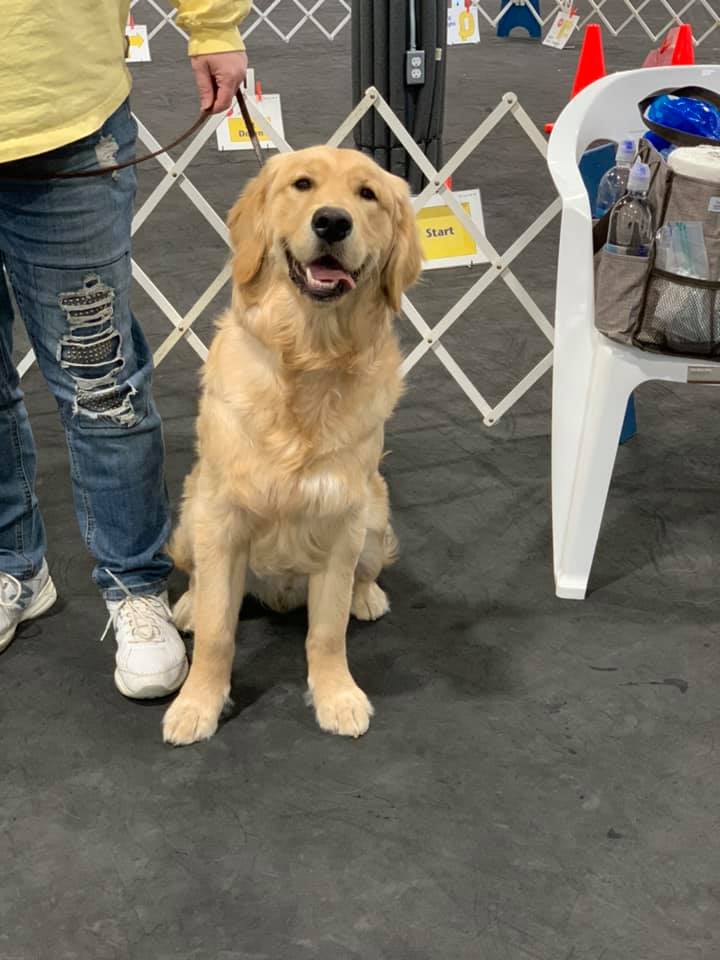 STOP LOOKING FOR ANOTHER Golden Retriever breeder. Get a puppy from Jamie Bell and Grapevine Goldens, and you'll feel like you hit the lottery! The quantity & quality of communication, from Pre-breeding to the day you pick up your furball-of-joy, will knock your socks off. The ethics and research behind what Jamie does should be the standard for all breeders.
By TRUSTING Jamie, my husband and I were able to bring home a healthy, confident puppy, who is ready to take on the world! At 12 weeks of age he received some of the highest praise from an internationally recognized breeder and trainer. He's a rockstar where ever we go. And an absolute joy to call Family! 
Not only is the puppy amazing but Jamie didn't just send us on our way and hope for the best. She gave us the tools we need to keep working on the solid foundation she established. Additionally she is still personally available and invested in our growing family.
Finding Grapevine Goldens was truly Devine Intervention. Thank you, Jamie Bell for choosing the most perfect puppy for us!
Nancy Jerry
2019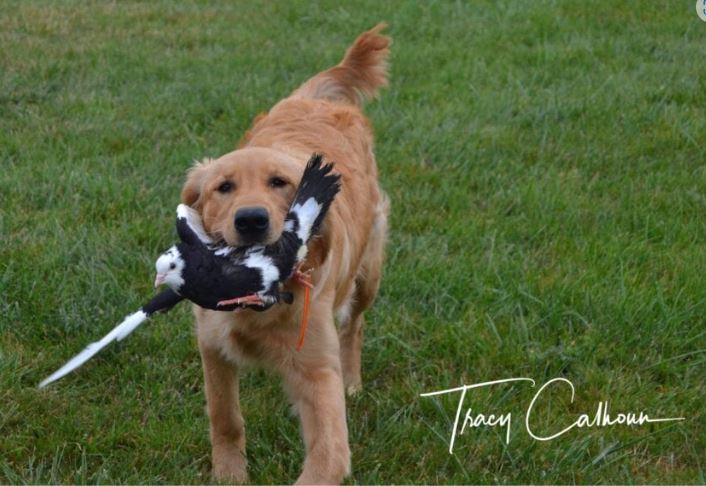 I just want to commend Jamie and her family for this litter. It is rare for us to get a puppy from outside lines, so it was important to find a breeder I was comfortable with, raised puppies like we do, and who would work with me. I share this with everyone (it's a "don't try this at home" video 😂) to give you an idea of the rather chaotic environment Rue will be raised in. Temperament is huge, as we ask a lot of the dogs here. What has been phenomenal over the past six days is watching how Rue is able to temper her responses to the situation, amazing for a young puppy. The puppies here are 4 weeks younger, and while she has been able to interact for a minute or two (closely supervised to make sure her arousal level stays low) she is mouthing them quite gently, given her alligator teeth. This is a situation you wouldn't want to do unless you knew exactly how to handle it, as a puppy of such a different size could accidentally hurt a smaller one. Then, she ramps up her play level with the big dogs, and then will hang out respectfully with our 16 and 4 month old girl. Hubby calls her an "old soul". It is phenomenal and I now am glad I had Danno on one of my test breedings. Rue will be doing some puppy visits for the next 3 months under my therapy dog Puppy Partner credential, including going to the Hospice House on one of my days off. Thanks again Jamie!
Tracy Calhoun
2019 Sutter Bay Retrievers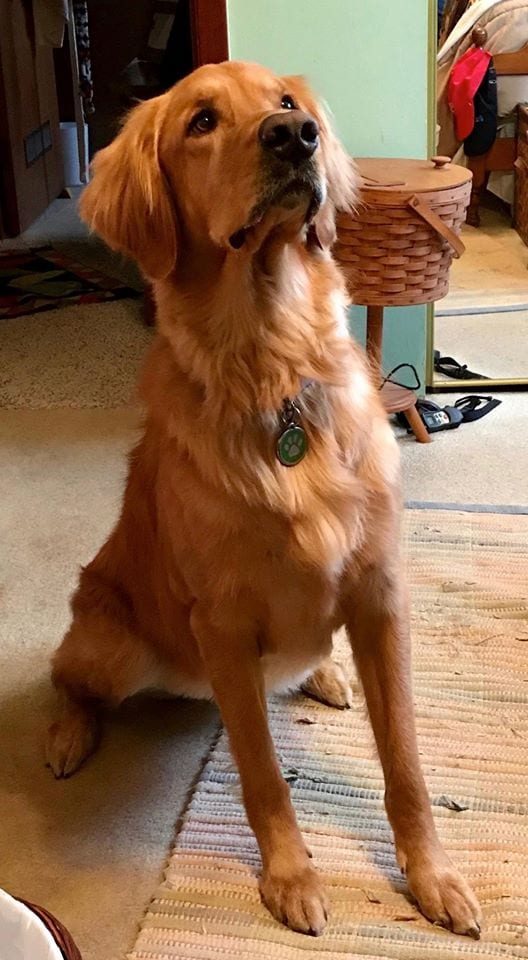 Jamie matched us with one of her pups last year. He is wonderful! The idea of not picking my own pup was new to me, but it works! Who knows the pups better than the breeder who spends everyday working with them? We are looking forward to being matched with another one of her pups in the near future. She is a very dedicated breeder!
Carla Hack
2014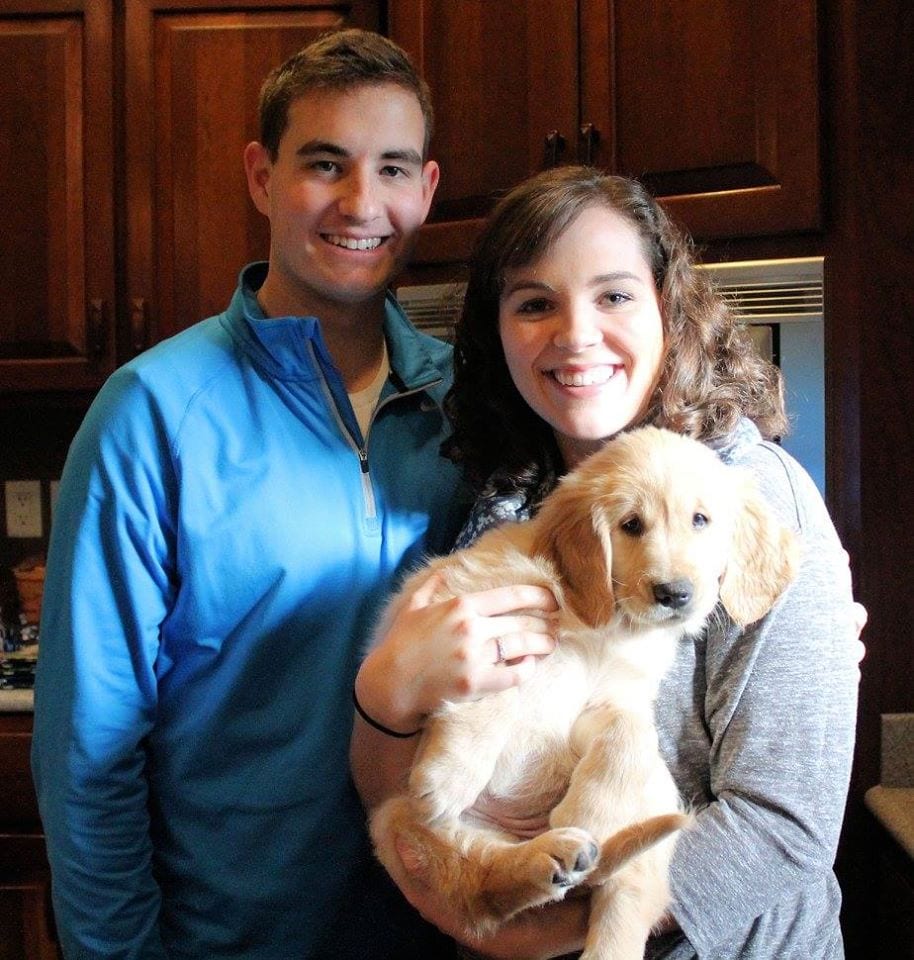 Our puppy from Grapevine Goldens is the real deal. Jamie did such a great job from start to finish. We knew that our little girl, Mazie, was taken care of the moment she was born. Jamie was also wonderful to work with. While excitement teemed at home in anticipation for Mazie to come home, Jamie posted plenty of videos and pictures to keep us posted. Jamie was also full of advice and knowledge, evidenced by the wonderful packet of information every puppy parent got at pick up. Even my veterinarian was commenting on how beautiful and smart Mazie was. I would HIGHLY recommend Grapevine Goldens for your next family pup!
Ben and Katie Waits
2014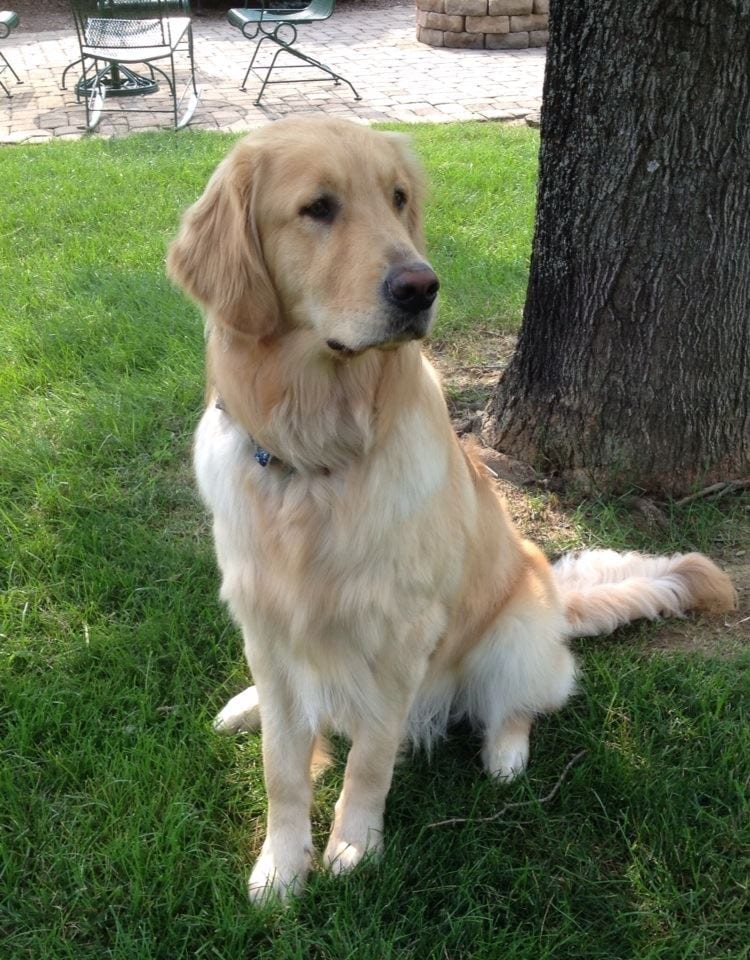 We are at the point in our lives that we know this will probably be our last dog ( well, at least the last BIG dog!), and having had 2 other Goldens, our expectations were set pretty high. Grapevine Goldens and Jamie and her family surpassed all of those expectations. From the first contact Jamie was open to answering all our questions and continued to be available to us throughout our "waiting time" whether it was on FB, messaging, texting or her pictures and updates on the webpage. Her care, love, and interest in matching the pups with their forever families is wonderful. She had 3 out of 6 males to recommend for us, and although it was SO hard to choose, we do feel that our boy, Higgins, is the perfect dog for us. The socialization, care and love showered on these puppies while in Jamie's care is first class, and the results of that care shows from the minute you bring them into your home. They are loving, smart, easy to train, healthy, gorgeous dogs. And, we know we have a knowledgeable, caring friend in Jamie we can turn to at any time with any question in the future!! We will be forever grateful to Grapevine Goldens for all they do for their pups and their puppy families.
Bill and Linda Kerns
2015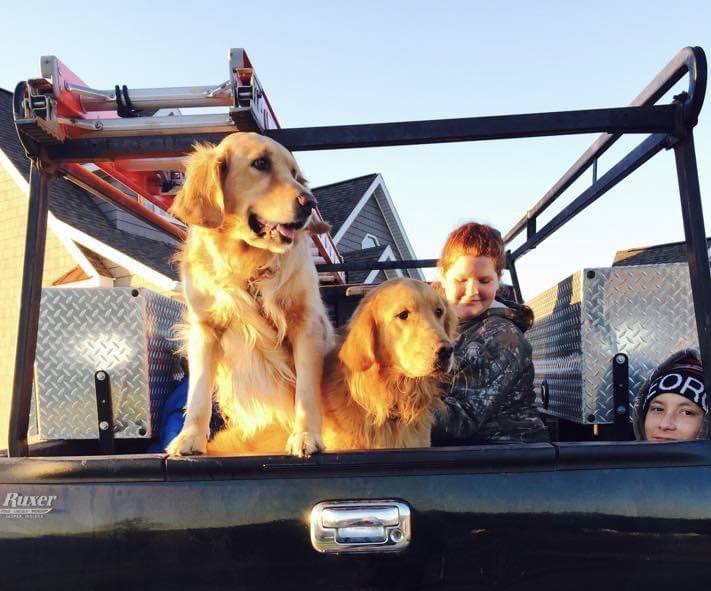 We adore Rick and Jamie. This is our 2nd Golden baby from Grapevine Goldens! I can't say enough about this wonderful family. Jamie give us daily updates, photos and videos on the puppies progress. I would recommend anyone wanting a Golden puppy to visit with this family. We have became great friends with this family over the last year! Thanks you Jamie for all your time, effort and hard work that you put into making the puppies wonderful family pets
Shalyn Lindsey
Nov. 26, 2014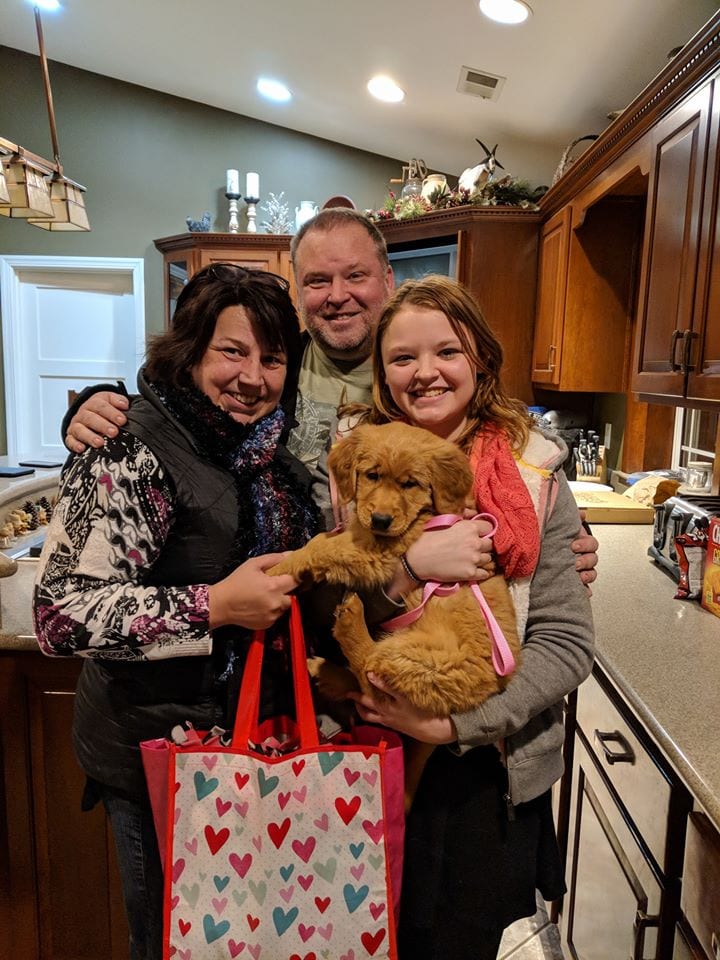 When we decided to add another Golden to our family, my wife and I said rather than look for a great dog we will look for a great breeder. We had looked at several when we saw Grapevine's website. After going to our interview and meeting Jamie we knew we had the right person. Her and her family are awesome and there is a lot of love for their dogs.
Jamie has put the time and effort into learning about Golden's and can answer pretty much any question you could possibly have about the breed and makes herself available to do so.
One thing my family really enjoyed was her constant updates on Facebook from the minute the pups were born all through their first weeks. We really felt like we were a part of what was going on and looking at puppy pics when we got home in the afternoons was the highlight of our day for eight weeks.
Grapevine Goldens truly loves their pups and it shows, we couldn't be happier with our choice of breeder and we couldn't be happier with our beloved Maximus.
Scott Hite
Dec. 13, 2013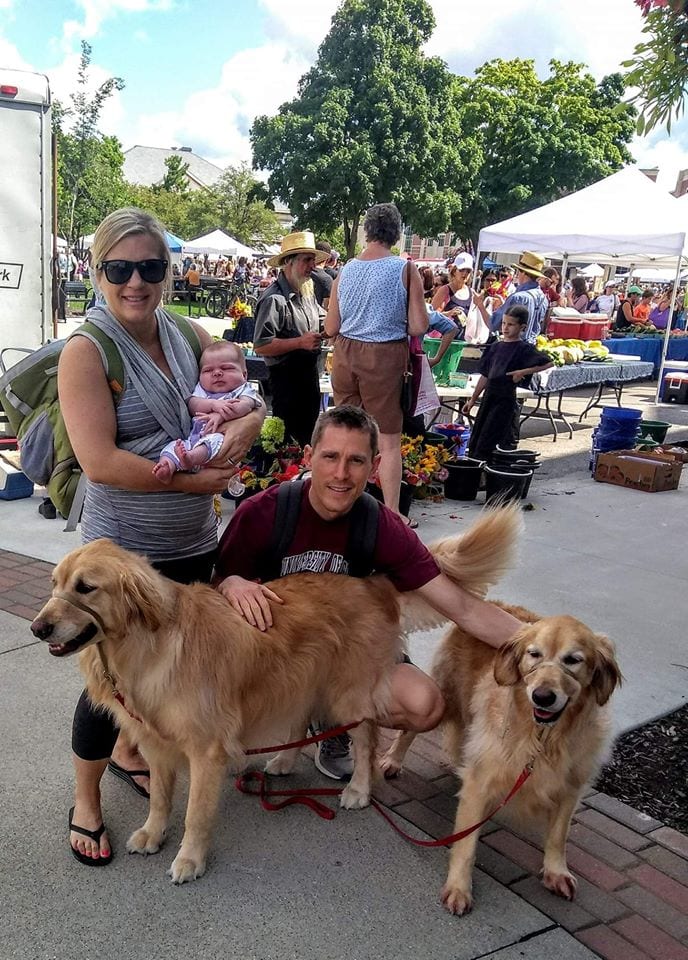 I cannot thank Jamie enough for all she has done throughout the whole process. She helped me choose two pups that are absolutely perfect with one another. She took EXCELLENT care of Wallace and Bella. She had tons of material to help with raising the pups. Basically, she did everything to a higher standard than I could have ever hoped.
I couldn't be happier with Wallace and Bella. They play together all day and sleep together at night. They really want to please you, are learning so fast, and have an endless reservoir of love to share!
I would recommend Grapevine Goldens to anyone looking for the perfect dog(s). Thank you Jamie!
David Brown
11.13.13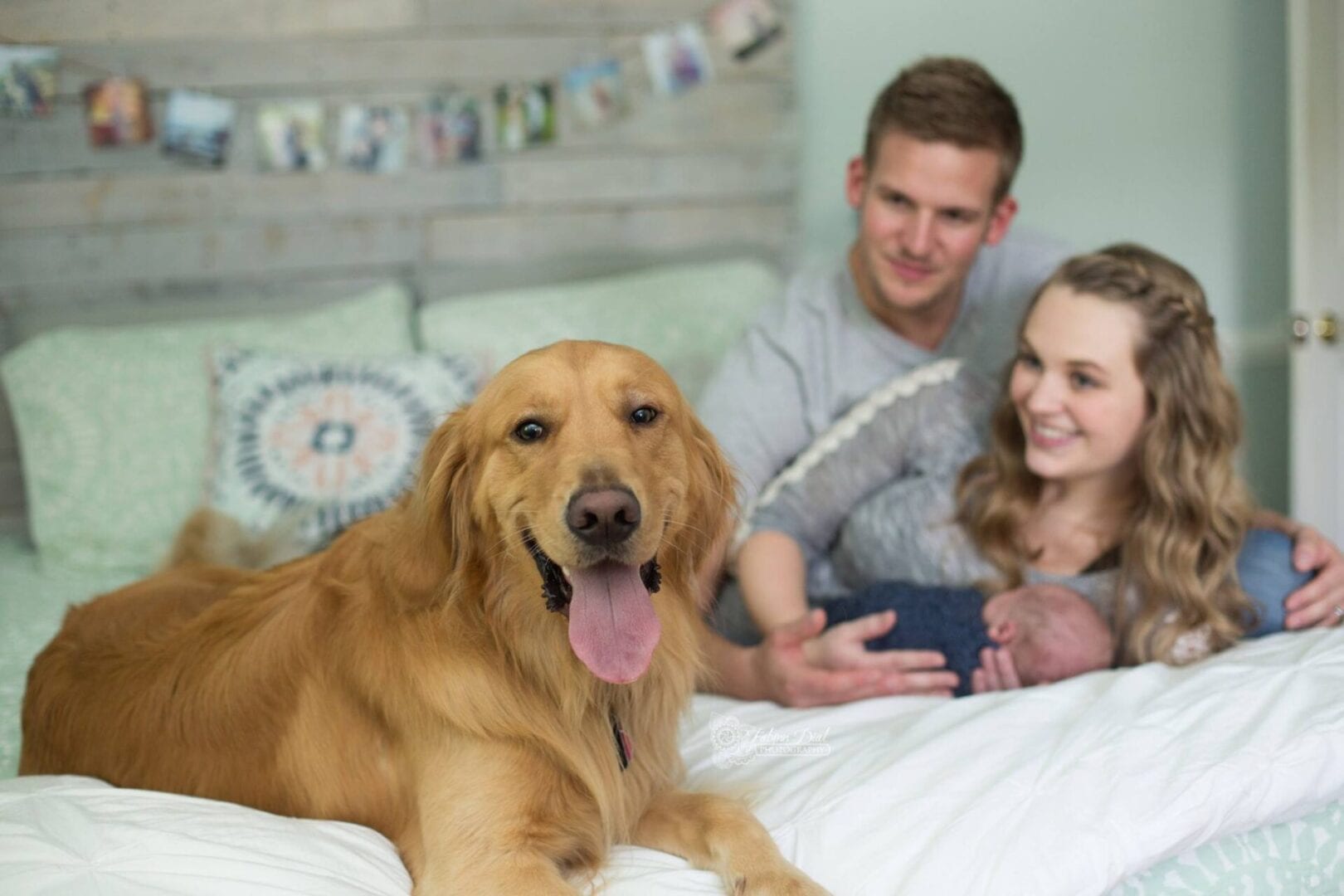 We love our Grapevine Golden and are so thankful for Jamie's guidance in helping us find the perfect puppy for our lifestyle!
Kelli Johnson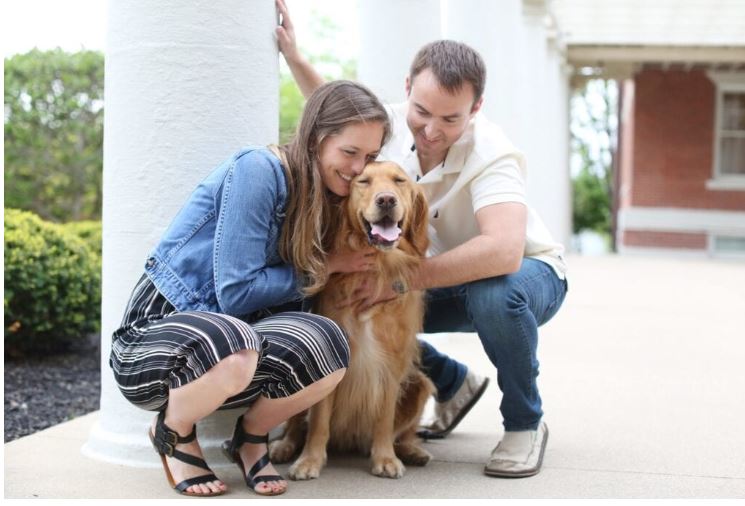 So blessed by Grapevine Goldens! Wrigley is my dream pup and I couldn't be more blessed that my boyfriend found this place! Jamie is so great and helpful!
Megan Farver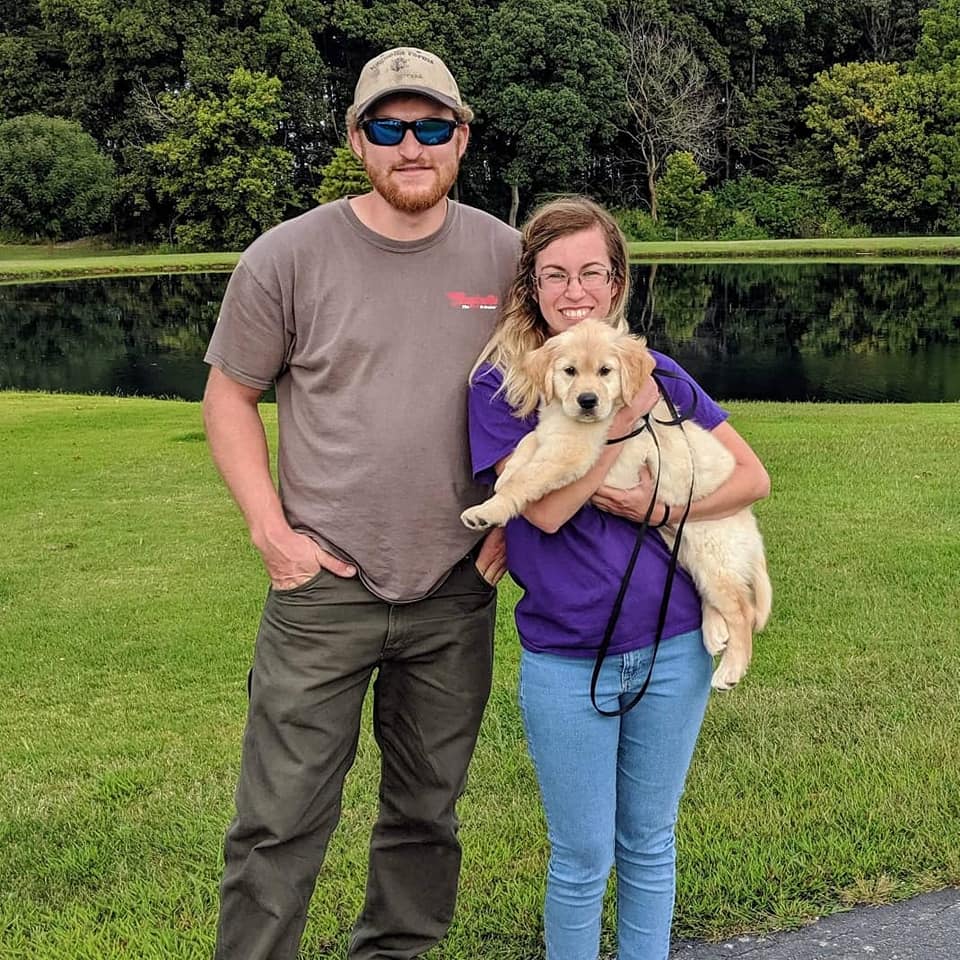 Jamie and her family are everything I was looking for in a breeder for a top-notch quality pup. From the first point of contact, she has always been present and willing to answer any of my numerous questions. She is beyond friendly and knowledgeable. My puppy Nora, from the Imo x Dee litter is everything I have ever hoped she could be and more. I can't thank Jamie and her family enough for such a wonderful upbringing. Nora was 110% worth the wait and the 13 hour drive from New Jersey. We are so proud to be part of the Grapevine Golden family.
Sarah Schwec
2019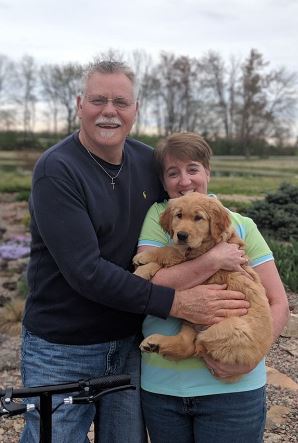 Jamie at Grapevine Goldens has been a fantastic breeder! We reached out to Jamie in 2019 to get our fist golden --Dash. She provided us with great details along the way. Dash is a fantastic dog! When we wanted to add a second golden to our family last summer Grapevine was the only place we would consider. We were so excited with the details of the process. When the puppies were born, we were able to watch them grow and develop with pictures and live video along the way. Our vet agrees, these are the best golden dogs she has seen. Jamie's methods are fantastic!
Cheri Warren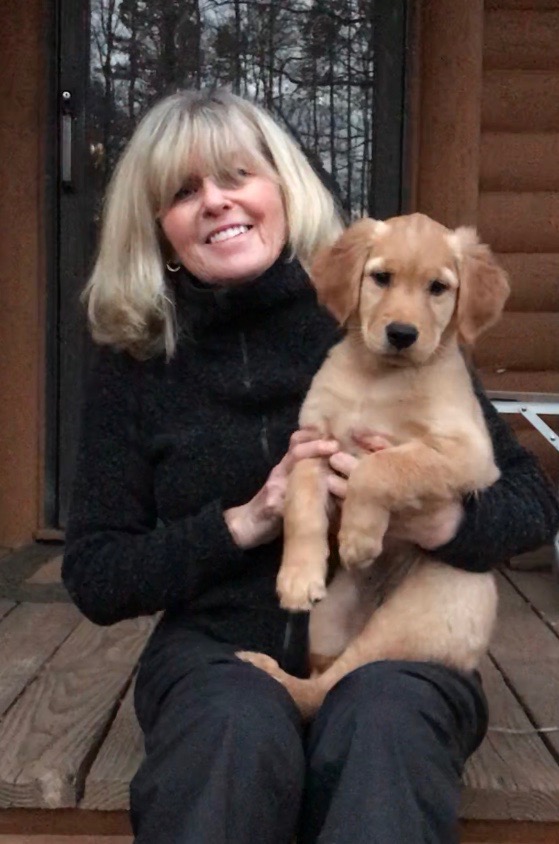 This is an easy review! Grapevine made me part of the puppy's life from beginning with pictures & videos pretty much every day. Jamie did puppy testing to help with placement and worked with each pup daily to give them the best start in life. I could go on & on but I will end with Jamie is what all breeders should try to be.
Mary Dean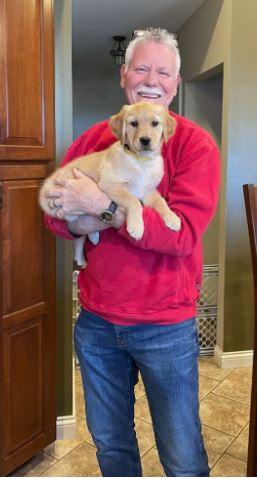 I have been nothing but excited and extremely satisfied with my Grapevine Golden. Jamie's method of "matching" the dog to the owner was an amazing and excellently successful process. We were gifted with a great dog that not only is an excellent working dog, but a fantastic family dog that fits in well with our pack. Thank you Jamie and Grapevine Goldens for one of the best dogs we have ever had. "Love this Breeder"
Steve Warren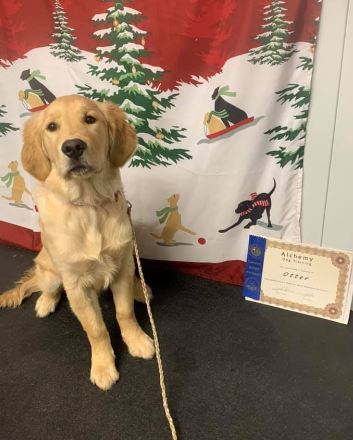 As much as I knew what I wanted in a golden breeder, I never knew how much they would exceed my expectations. Jamie was engaged the entire process of the puppies, sending health clearances on both sire & dam, weekly puppy photos, providing personality updates, etc. She spent numerous phone calls with me understanding what I personally wanted in a new golden and ensuring the right puppy went to the perfect home. Her puppy raising protocol and testing was right on the mark. The going home bag of goodies along with the puppy packets was filled with information to this day I still refer back to. My puppy was correctly socialized each week, with new adventures, obstacles, and meeting of friends & children. Housebreaking skills, recall, and crate training was an just added bonus. You are not just getting a puppy from Grapevine Goldens, you become family as we sharing our golden adventures with her to this day. I can't image ever going any place else.
Leah Smith